4 April 2023
993
2 min.
1
BrightDrop is shipping its first Canadian-built vehicles, announcing 2023 BrightDrop Zevo 600s are sold out, and adding Ryder as a customer.
BrightDrop is heading into spring with a few reasons to celebrate. For starters, we have started shipping the first 500+ BrightDrop Zevo 600s built in Q1 at CAMI Assembly, our large-scale manufacturing facility in Ontario, Canada that just opened three months ago. Next up, demand for our commercial EVs is at an all-time high, with our model year 2023 Zevo 600 already sold out. And finally, to add to the momentum, our newest customer Ryder plans to add 4,000 BrightDrop EVs to their rental and lease fleet through 2025 (more here).
In just two years, we've secured more than 30 commercial customers across industries like retail, rental, parcel delivery and service-based utilities. This includes new customers like American Tire Distributors, WasteNot Compost and Rexel USA, in addition to our already announced customers FedEx, Walmart, Hertz, DHL Express and Purolator. Apparently, we aren't the only ones interested in our purpose-built electric van.
After a record-setting commercialization and the fastest-ever plant conversion for GM, we're well on our way to accelerating production of our electric delivery vans and reaching our 50,000-unit annual volume capacity by 2025.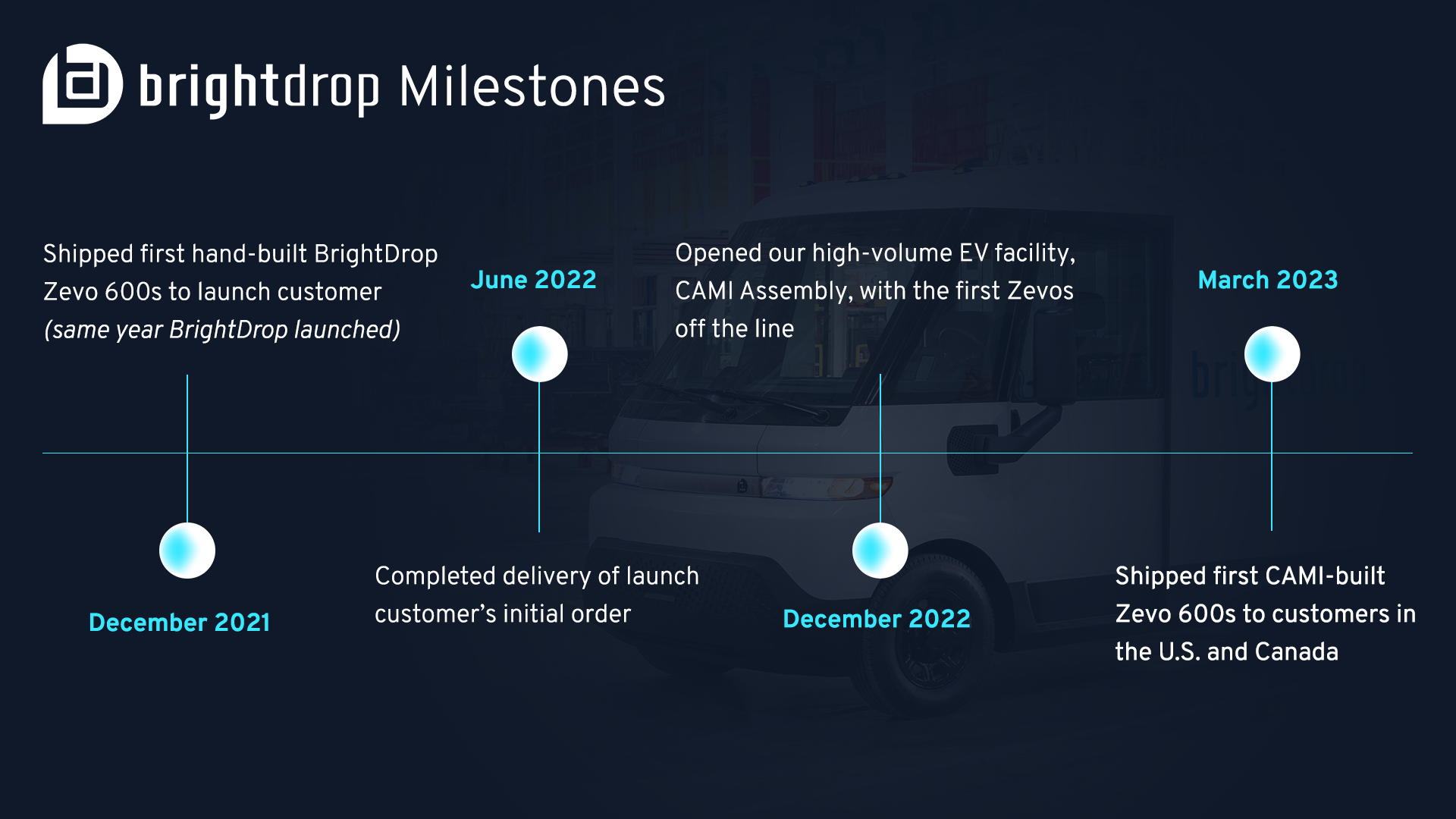 We did all this while focusing on what matters most to our customers: segment-leading safety features, quality and reliability. We've been able to do new things in the auto industry, largely because of our unique structure as a startup within an industry leader. This structure allows us to focus on cutting-edge innovation and agility, while also tapping into the platform assets, scale, and the manufacturing might of GM. It's a powerful combination.
BrightDrop is taking reservations for model year 2024 vehicles today with deliveries expected to begin by mid-year 2023.
"Our customers have ambitious sustainability goals and they're under extreme pressure to deliver on them. The quicker we can electrify commercial fleets, the quicker we'll help combat climate change. We're laser-focused on scaling production to deliver for our customers, and the planet." – Steve Hornyak, chief commercial officer, BrightDrop.
Persons1 in the news
Chief Commercial Officer BrightDrop
Press releases on the topic
NEW YORK PRESS RELEASES
GlobalNY.biz Press Releases are the latest news from New York companies.
Official press releases of New York companies are regularly published on the resource. You can find out the latest news of enterprises in the corresponding section on the main page. Placing press releases is a traditional and effective way to promote your business. It allows organizations to announce themselves and their products and services to the widest possible audience. In this case, the informational occasion can be anything: attracting people to an event or conference, highlighting new products or personnel appointments. If you set a goal to draw attention to your information, then GlobalNY.biz will become your reliable assistant in this matter. Thanks to the portal, your press release will be seen by reviewers of leading Internet publications, clients and partners.
GlobalNY.biz allows representatives of companies and organizations in New York to independently post a press release when registering on the resource. The most important feature of GlobalNY.biz is that all publications of New York companies fall into the archives and will be available from the search for a long time. You just need to add the press release to the news feed.
GlobalNY.biz offers its customers a subscription service that allows companies to regularly publish press releases on favorable terms. In addition, the business portal makes it possible to more fully tell about the life of the company by adding photos and videos, personas and employee quotes. All information materials have active links and will lead potential customers to your resource.
Alena Potapova
---
Development Director